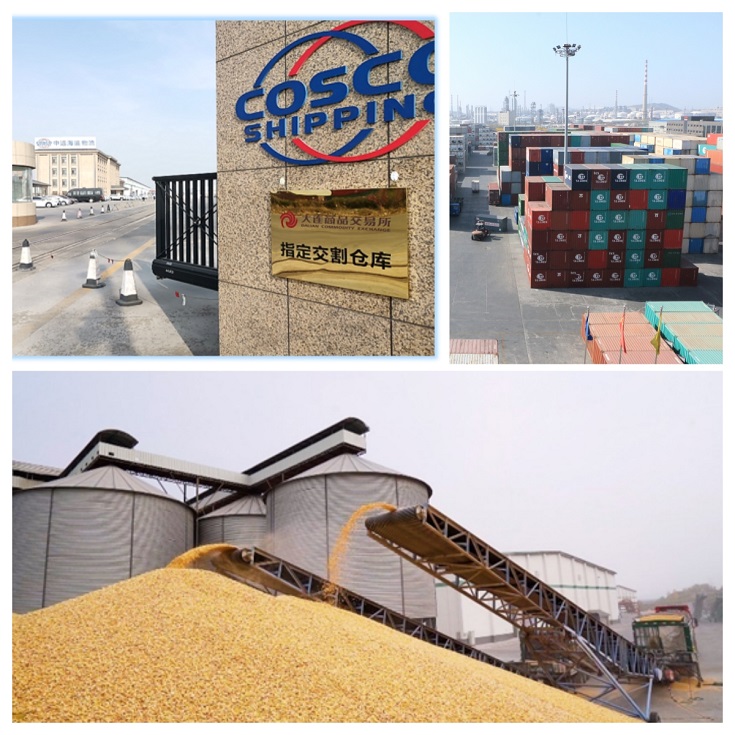 COSCO Shipping Logistics Supply Chain Company focuses on the warehousing and distribution service, and is deeply involved in the commodity futures and spot, advanced manufacturing supply chain services, consumer goods and retail logistics, and hub distribution supporting logistics. Our line of business covers the main futures varieties of the four futures exchanges, all kinds of bulk goods, industrial parts, finished products and consumer goods.
Commodity futures and spot
Our company is an enterprise with major futures delivery qualifications in China, which owns and controls storage resources of 1.81 million square meters, covering domestic logistics node cities. Our company has established strategic cooperative relations with Shanghai Futures Exchange, Dalian Commodity Exchange, Zhengzhou Commodity Exchange and Guangzhou Futures Exchange. By the end of 2022, we have obtained the futures delivery qualification of 12 futures varieties, with a cumulative storage capacity of over 400,000 tons, which makes us the market leading spot logistics service company for bulk commodities such as grain, energy and chemical, non-ferrous metals and green energy.
On the basis of our warehousing and logistics services, our company is committed to digitally empowering the whole supply chain of commodity delivery and spot, creating a new ecology of commodity circulation, continuously exploring the application of block chain, IOT, 5G, digital twin and other technologies in commodity warehousing and supply chain. We also jointly building a digital warehousing platform with leading enterprises in the industry, so as to achieve more efficient and accurate warehousing management, being able to provide customers with low risk, high quality service.
Characteristic service
1、Logistics services for futures delivery
Our company has 13 futures delivery warehouses, which can provide customers with warehouse receipt management, quality inspection, goods management and other futures delivery logistics services.
2、Standardized logistics services
We have the most professional team, which can provide complete services to customers according to their needs, such as warehouse management, cargo handling and allocation, logistics distribution, container unpacking and LCL, as well as circulation processing, packaging, supervision and other.
3、Whole logistics service
Relying on the rich logistics network and transportation resources, it realizes the whole process controllable and can be regarded as the foundation by digital enabling, efficiently integrates various transportation modes such as highway transportation, railway transportation, water transportation, and provides customers with one-stop logistics and supply chain service solutions in order to provide efficient and convenient operation mode and competitive price system.
4、Supply chain financial services
Based on the "futures+warehousing and logistics" model, focusing on the supply chain management needs of core enterprises in the field of commodities, our company gives full play to its capital, network and logistics advantages, deeply involved in all business links of the supply chain of commodities, and provides customers with supply chain financial services integrating procurement, distribution, warehousing, transportation, processing, distribution, finance and other functions.
Advanced manufacturing supply chain services
Our company has formed an industry-leading third-party logistics service brand with extensive layout, outstanding advantage and comprehensive coverage in the fields of electronic, automobile, high-end equipment, new materials and other advanced manufacturing industries, which can provide customers with professional and integrated logistics solutions, and a strong, collaborative and sustainable supply chain service system.
We can provide customers with "end-to-end" logistics services from parts management, production logistics, multilevel warehousing management, and distributions to the global multimodal transport of finished products
Characteristic service
Automobile lean logistics service
Our automotive lean logistics service covers traditional energy vehicles and new energy vehicles, which includes procurement logistics, line-side logistics, vehicle logistics and spare parts logistics for automotive oems, parts suppliers and industrial manufacturers. Relying on the national network layout, logistics and transportation advantages, we provide customers with more flexible and intensive automotive logistics services to help customers reduce operating costs and improve service quality. At present, it has reached business cooperation with leading enterprises in the automobile industry such as FAW,SAIC,GWM,CHANGAN,Mercedes-Benz, BMW, XPEV, DPCA and CAC.
Consumer goods and retail logistics
We have a digital logistics transportation, management and service system platform with rich logistics scenes, detailed industry division and comprehensive function coverage. We provide warehouse management, in-warehouse value-added services, B2B and B2C diversified distribution for consumer goods manufacturers,distributors and cross-border e-commerce customers.
Relying on exclusive information system, we can realize paperless, visualized closed-loop management of the whole process. We can also customize automated logistics services on demand.
Hub distribution supporting warehousing logistics
We have established professional hub distribution supporting service centers in coastal port cities, Yangtze River port cities and important inland hubs, with a storage yard area of over 2.2 million square meters, which can achieve 24-hour operation monitoring and online warehouse patrol by our self-developed Isafe panoramic visualization system. We can provide comprehensive services such as container packing, unpacking, storage and transportation for traders, shippers, railways, ports and ship owners. Some centers can also provide container refitting, repair, refurbishment and cleaning services.