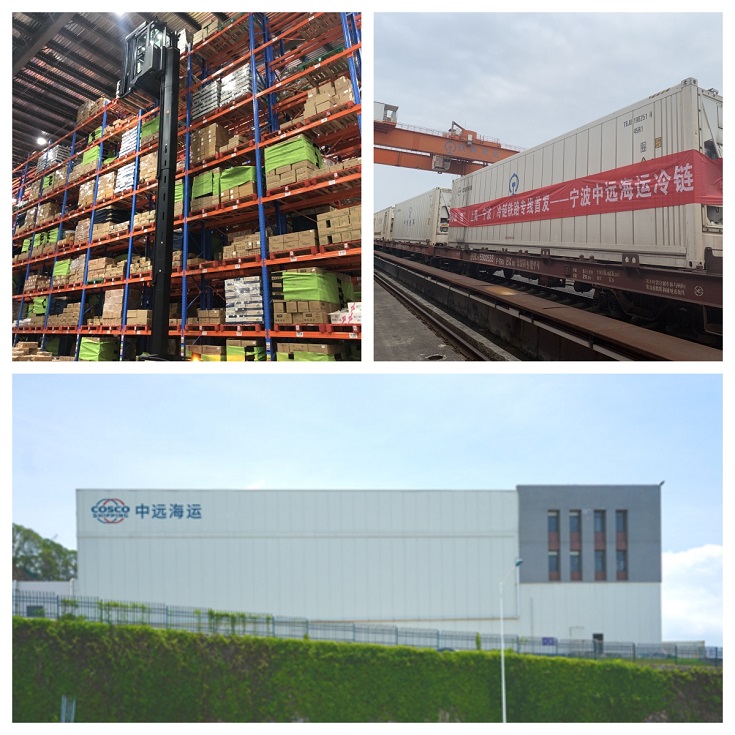 Cold chain logistics is a characteristic part of COSCO SHIPPING's marine business products. It owns or operates high-standard cold warehouses of more than 100000 square meters in major domestic ports, and currently operates about 1 million tons of temperature-controlled cargo.
By connecting the two major international and domestic markets, relying on COSCO Shipping's global routes, ports, digitalization and other industrial chains and core node resource advantages, we are oriented to frozen meat, aquatic products, fruits and vegetables, fast food consumer goods, medicine and cosmetics and other categories, and provide different industries such as trade, processing, group meals, prefabricated dishes with online and offline integration, cross-border one-stop end-to-end cold chain logistics service products.
We are committed to serving the industrial chain, unblocking the supply chain, and becoming a leading domestic, low-carbon and environment-friendly cold-chain supply chain service provider.
• Industrial chain operation advantages: shipping+port+logistics, group industrial chain operation synergy advantages
• Core resource advantages: self-owned resources+partners, self-owned and controllable key node resources, and reliable network resources covering the whole chain
• Professional ability advantage: professional team+platform operation, system guarantee professional service
• Digital support advantages: digital empowerment, controllable and traceable whole process, visualization of key processes, and maximization of data value
Qualifications and honors
• Customs AEO general certification
• National digital warehouse enterprises
• Level 4A logistics enterprises
• Four-star cold chain logistics enterprises
• Cold storage design innovation award
• Cold storage with temperature up to standard
——Cold warehouse operation
In the important logistics hub, the operating capacity of self-owned and joint-venture high-standard cold storage reaches 100000 square meters (estimated at the end of 2023),
• Cold warehouse network coverage: Yangtze River Delta, Beijing-Tianjin-Hebei, Hong Kong-Zhuhai-Macao Bay Area, Southeast Coast, Southwest China, Hainan.
• Specialized operation of cold warehouse: provide menu-type operation management output service, and standard safety management service of cold chain logistics park.
——Cross-border cold chain logistics services
The one-stop, cross-link, end-to-end cold-chain supply chain logistics product design capability based on cross-border cold-chain demand provides customers in frozen meat, aquatic products, fruits and vegetables, medicine and cosmetics, FMCG, dairy products and other industries with whole-process cold-chain solutions.
• Cold chain port product service
• Cold chain warehouse product service
• Cold chain multimodal transport product service
• Cold chain supporting supply chain product services
• Cold chain bonded integrated logistics service
——Online and offline integrated food supply chain
Relying on the cold-chain storage and distribution system, we will build a temperature-controlled food supply chain product with online and offline multi-channel integration, including food procurement, processing, sorting, packaging, and simultaneous delivery from multiple locations and warehouses. The whole process of temperature control is safe and efficient, covering all major provinces and cities in the country.
• COSCO SHIPPING e-commerce products: COSCO SHIPPING series e-commerce platforms.
• COSCO SHIPPING cold-chain cloud storage products: provide a consignment service for five mainstream public e-commerce platforms and major private e-commerce platforms' cold chain characteristic fresh food products.