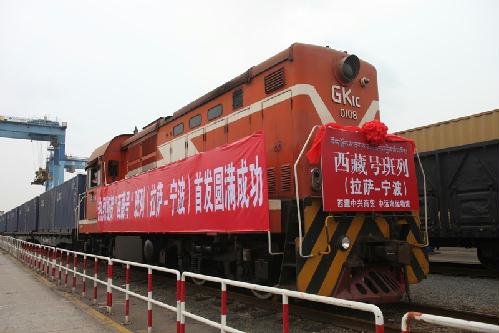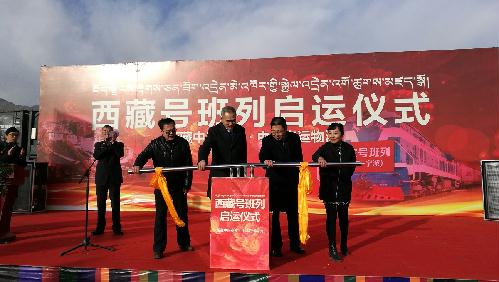 On December 28th, the freight train of "Tibet" started its first journey when it departed from Lhasa West freight station, fully loaded with 35 wagons of total 70 TEU containers. The 5-day trip of 4500 km went through many provinces and regions of Tibet, Qinghai, Gansu, Shanxi, Henan, Anhui and Zhejiang. On Jan. 2nd, the train arrived in Ningbo Beilun port as planned and accomplished its first journey successfully. On the departure ceremony of Dec. 28th, General Manager Assistant of COSCO SHIPPING Group &General Manager of COSCO SHIPPING Logistics Jun Han, Chairman of Tibet Autonomous Region SASAC Heping Yu, Deputy General Manager of Tibet ZhongXing Trading Group Co. Ltd. Zhen Bai, Deputy General Manager of Qinghai-Tibet Railway Company Ance Xu pulled the train starter rod together.
"Tibet"block train is initiated by COSCO SHIPPING Logistics and Tibet ZhongXing Trading Group Co., Ltd, who cooperated with Qinghai-Tibet Railway Company, Tibet plateau natural drinking water Co., Ltd and Ningbo Zhoushan port.The launch of this train is actual landing movement of the signed strategic cooperation agreement between COSCO SHIPPING Logistics and Tibet ZhongXing Trading Group Co., Ltd. As a bridge, "Tibet" block train connected Lhasa and Ningbo successfully, which will be a new Logistics channel. It has been a long time that Tibet was isolated from domestic cargo trade due to alpine hypoxia, longer transport distance and far away from inland cities clusters. "Tibet" block train firstly used new mode which combined railway and containerized unit, maximally decreased transport cost, stepped into innovation of cost control. The launch of this train will stimulate cargo trading along the railway line, and start a new page for cargo trading in Tibet, even in western China.
COSCO SHIPPING Group has always attached great importance to the strategic cooperation with Tibet Autonomous Region. Actively taking up its social and political responsibility as a State-owned Key Enterprise, COSCO SHIPPING Group has provided counterpart support to Tibet for 15 years and made outstanding contribution to promoting local economic and social development, accelerating realization of well-off society as well as maintaining social stability of Tibet. As Tibet logistics service provider for railway construction, in more than 500 days and nights, the former COSCO Logistics transported 24 DongFeng IIII diesel locomotives, 178 railway flat-cars and vagon, total 233 plateau railcars, slag cars and subgrade reinforcing vehicles within more than 164200 kilometers journey above 4500 meters sea level, which created a miracle for "automobiles pulling trains" on the roof of world, made outstanding contribution for the construction of Qinghai-Tibet Railway.
The launch of this new block train will be viewed as an opportunity for COSCO SHIPPING Logistics to further deepen its corporation in contract logistics with Tibet Autonomous Region. In future, by extending the route to Nepal and India and following "One Belt One Road" initiative to develop South Asia market, COSCO SHIPPING Logistics can make further contribution to the economic development of Tibet as well as South Asia region.