‍‍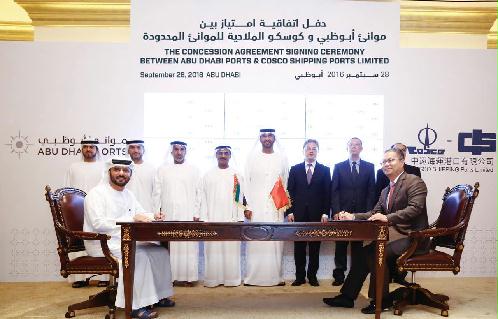 At noon 28th September (UAE Time), COSCO SHIPPING Ports through its wholly-owned subsidiary ("COSCO SHIPPING Ports (Abu Dhabi) Limited"), signs a concession agreement with Abu Dhabi Ports UAE regarding the collaborative investment in the KPCT2. Vice Chairman and Managing Director of COSCO SHIPPING Ports, Mr. Zhang Wei signs the agreement with Captain Mohamed Juma Al Shamisi, Chief Executive Officer, Abu Dhabi Ports. Mr. Wan Min, President of COSCO SHIPPING and H.E. Dr. Sultan Ahmed Al Jaber, Minister of State in the United Arab Emirates witness the signing and give speech for the ceremony. Mr. Zheng Chiping, Deputy Director of the foreign investment department of the National Development and Reform Commission of PRC, Mr. Lin Yaduo, Chargé d'affaires ad interim of the Chinese Embassy in the UAE and over a hundred guests from Government of UAE, local business sector, the Chinese Embassy in the UAE, Chinese enterprise also join the ceremony. According to the agreement, the two parties will establish a Joint Venture Company to jointly operate the KPCT2. COSCO SHIPPING Ports (Abu Dhabi) Limited will hold a controlling stake of the Joint Venture Company. The Terminal will have a quay length of 1200 meters with a draft depth of 18 metres and the annual capacity is 2.4 million TEUs. It is expected to be operational in 2018.
President Wan points out that KPCT2 is a strategic hub along the 'One Belt One Road'. Its network covers countries in the Arabic Gulf. It has an excellent location, good condition in water draft and it can also handle the largest container vessels. Abu Dhabi is the capital of UAE and Khalifa Port is the main gateway and an important hub in Middle East region. KPCT2 will be functioned as a hub port in the future, the shipping route will be increasing in the Middle East region and KPCT2 will be built as an influential container logistic network in the region.
Since the restructuring of COSCO SHIPPING Ports, it has been utilizing the high efficient resource allocation after the restructure. In 2016 it has signed deals regarding business cooperation in Singapore and in Rotterdam Netherland. Currently it has 10 overseas terminal investments and two of them are international hubs which it has controlling stake. The implementation of these projects will further help COSCO SHIPPING Ports achieve the strategic goal of global network development.
‍‍