‍‍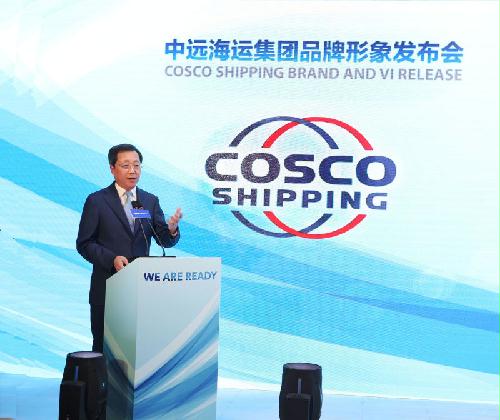 Shanghai, China: On September 28, 2016, China COSCO Shipping Corporation Limited (hereinafter referred to as "COSCO SHIPPING "or "the Group") held the announcement of its new brand image campaign, themed "We are Ready", and officially presented its corporate visual identity system (VIS), which included its new logo, website domain name, and Chinese and English abbreviations. The event was attended by officials from the State Council Information Office, SASAC's Publicity Bureau, China Council for International Cooperation on Environment and Development (CCICED), relevant Shanghai authorities, in addition to top management from central SOEs, representatives from the Group's customers and partners, and more than 50 media outlets.
The new logo upgrades the original shipping image to two, interlocking circles which symbolize the logistics supply chain, while simultaneously demonstrating the Group's global presence across industries and geographical boundaries, and showcasing its "6+1" industrial clusters strategy with shipping as its core business. The four curves represent its cultural concept of "One Team, One Culture, One Goal and One Dream", which guides and supports the Group on its path of development. The two, interlocking circles also embody the history of the Group as a merged entity of COSCO and China Shipping and the "[表情]" sign they form signifies not only sustainable operation of COSCO SHIPPING, but also the close cooperation between the Group and its customers.
In addition to the new logo, COSCO SHIPPING also launched a corporate visual identity system (VIS), including its Chinese abbreviation "中远海运" and English abbreviation "COSCO SHIPPING", website domain name www.coscoshipping.com and email domain name "@coscoshipping.com", corporate flag, sailor's uniform, and marked containers, funnels, ship's rails, and the like. The mascot and QR code of its WeChat official account were also announced.
According to Capt. Xu Lirong, Chairman of COSCO SHIPPING, the former COSCO and China Shipping each had their own, individual logos and VIS, which played a vital role in building their international brands and recognition. But today, the Group is at the forefront of a new historical moment and shouldering a new historical mission. The new brand image will bridge the past and the future.
Capt. Xu pointed out that since the VIS is an external form of brand building, COSCO SHIPPING will place more emphasis on the deep connotations behind the brand image. The new logo, alongside the slogan "We are Ready", contains the Group's philosophy of "sharpening global competitiveness, improving service quality, boosting green growth, accomplishing historical milestones, fulfilling corporate social responsibilities and enhancing the value of employees".
He stressed that, as the largest shipping line in the world, COSCO SHIPPING ranks Number One worldwide in carrying capacity of four, different types of vessels and takes a leading position among other areas. In order to grow bigger and stronger, the Group shall not only expand its scale, but more importantly, enhance its international competitiveness, capabilities of allocating global resources and sustainable development, and transform its scale advantage to economies of scale. Moreover, guided by the philosophy of customer orientation, the Group will change its traditional marketing guidelines, and shift its focus from products to customer needs in order to improve overall customer satisfaction. It is committed to delivering quality services to customers, both at home and abroad, and becoming the most trustworthy company in the world. Additionally, it will intensify efforts in energy saving and emission reductions, actively foster green competitiveness, stimulate a shift in corporate values with green development concepts, and place a stronger regard for and awareness of environmental protection as a developmental requirement. Capt. Xu also emphasized that COSCO SHIPPING will give more back to society by taking an active part in social welfare programs, performing its social responsibilities as a central SOE and helping to build a harmonious society. Meanwhile, the Group aims to develop into a happy enterprise by improving employee values and promoting employee career growth and development.
The consolidation of COSCO and China Shipping is a significant achievement of China's SOE reform, a major initiative for implementing China's Belt and Road Initiative, a further strategy of building a maritime power, and an inevitable choice to cope with international competition and to improve quality and effectiveness. When the new Group was established, a new journey had begun.
Strengthening brand building and implementing a brand image is a successful strategy to cultivate world-class enterprises. The "13th Five-Year Plan" for China's central SOEs sets forth the goal of fostering a group of world-class multinationals with great innovation and international competitiveness by the year 2020. As the flagship of China's shipping industry, COSCO SHIPPING is a decisive and influential player in the international shipping community. The launch of the new logo delivers a clear and firm message about the Group's brand new architecture, strategy and mission. The new logo is more than a symbol; it is the Group's new commitment to the market, a new command to its more than 100,000 employees, and a response to the challenges and opportunities ahead.
In addition to the announcement, a donation ceremony was also held in which COSCO SHIPPING Charity Foundation donated RMB 1 million to CCICED for research efforts in protecting the maritime environment and promoting green shipping and sustainable development.
COSCO SHIPPING Charity Foundation, renamed from COSCO Charity Foundation, was established in October 2005 with the approval from the State Council. Among the first non-public, non-profit charity foundations initiated by a Chinese SOE, the Foundation has operated and implemented more than 350 charitable projects and has donated a total of RMB 435 million since its inception. Some projects have received appropriations totaling RMB 5 million from the central government. The Foundation has developed the "Yuan Hang" (Voyage) series of charity projects, of which the "Yuan Hang · Zhui Meng" (Voyage · Dream Chasing) elementary education donation project was granted the China Charity Award – "The Most Influential Project" by the Ministry of Civil Affairs. The Foundation has adhered to standard operations and open, transparent governance, and its transparency index has received a perfect score of 100 for several consecutive years, which is one of the highest in China.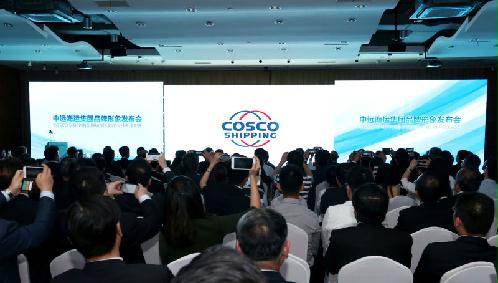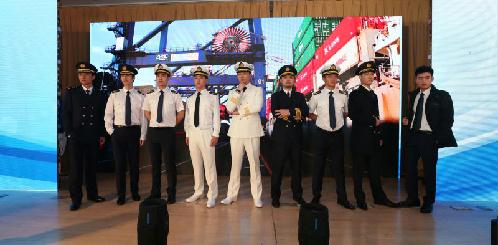 ‍‍