‍‍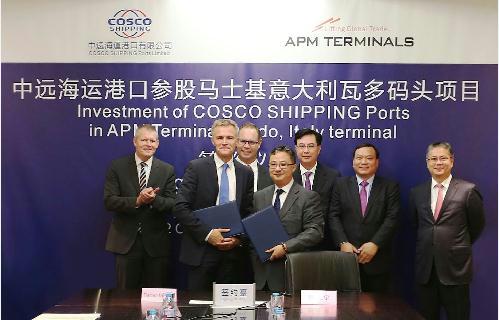 COSCO SHIPPING Ports Limited ("COSCO SHIPPING Ports") is pleased to announce that on 12 October 2016, CSPL SPV, a wholly-owned subsidiary of the Company, entered into the Share Sale and Purchase Agreement ("Agreement") with APM Terminals in connection with the purchase of 40% of the issued share capital of APM Terminals Vado Holding B.V. ("Vado Holding"). Total considerations amounted to €53 million. Mr. Zhang Dayu, Deputy Managing Director of COSCO SHIPPING Ports, and Mr. Tiemen Meester, Senior Vice President of APM Terminals, signed the Agreement, as witnessed by Mr. Huang Xiaowen, Executive Vice President of China COSCO Shipping Corporation Limited, Mr. Zhang Wei, Vice Chairman and Managing Director of COSCO SHIPPING Ports, Mr. Kim Fejfer, CEO of APM Terminals, Mr. Cheng Xinnong, President of Qingdao Port Group, and other honourable guests.
Vado Holding is the holding company of Vado RT, which operates the Vado Reefer Terminal at the Vado Port. Vado Reefer Terminal is one of the largest reefer terminals in the Mediterranean region. Its annual capacity is up to 300,000 TEU in addition to 600,000 pallets with draft depth of a maximum of 14.5 metres and quay length of 705 metres of which 465 metres is capable for handling containers.
In addition, Vado Holding is currently expected to complete the purchase of the entire issued share capital of Vado CT in 2018. Vado Container Terminal is a new deep-water terminal located at the Vado Port, which is currently under construction and is scheduled to commence operation in 2018. Its initial annual capacity is expected to be 600,000 TEU which will be expanded to 900,000 TEU with a draft depth of a maximum of 16 metres and quay length of 700 metres.
COSCO SHIPPING Ports' investment in the Vado Terminals is in line with the Company's strategy of developing overseas shipping hubs and strengthening its global network of container terminals. The Vado Terminals are situated at the Vado Port in Liguria which is a major port area in Northern Italy and the Mediterranean region. The Vado Container Terminal will be a semi-automated container terminal scheduled to become operational in 2018, with the unique ability to accommodate ultra-large container ships without any physical restrictions among North Italian ports. The Vado Container Terminal is part of the master plan of the Savona Port Authority to create new and improved supply chain capabilities for markets in Northern Italy, Switzerland and Southern Germany. Benefitting from the supports of container shipping fleets of COSCO SHIPPING Group and A.P. Møller-Maersk Group, the Vado Terminals will secure a solid foundation for sources of cargo. APM Terminals and COSCO SHIPPING Ports are confident that the Vado Terminals will have a prosperous future.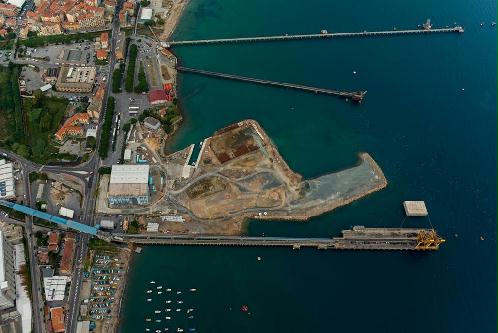 ‍‍